Surf Conditions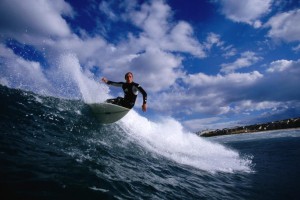 When to Find the Best Surf Conditions in Cape Town
Surf's up 365 days of the year in Cape Town, you just need to know where (and when) to go.
And being informed about local surf conditions in Cape Town and getting frequent surf reports will ensure you don't waste time or money heading off in the wrong direction.
The chilly water temperatures rise during winter when storm swell also brings bigger waves, making June, July and August the months that offer the best surf conditions in the Cape.
Don't worry, there are many things to do when there are no waves in Cape Town.
Weather Conditions
Surf conditions in Cape Town are mostly determined by:
wind direction,
wind speed,
swell size and
swell direction.
The infamous south easterly wind (also known as the Cape Doctor) brings onshore conditions to the False Bay coast and offshore conditions to the Atlantic coast while the converse is true when a north westerly wind blows.
You can expect hot, dry summers and cold, rainy winters in Cape Town, though the city is also known for often having four seasons in one day.
Surf Reports
Before grabbing your surf gear, get an update on the day's surf conditions.
To get your surf reports, you can pop into the nearest surf shop, go online, view the webcams, subscribe to get an SMS update sent to your phone or tune into one of the local radio stations for an early morning report on surf conditions and surf spot recommendations.
Muizenberg Conditions
Water Type:
Flat, Small Wave (< 1m), Medium Wave (1-3m)
Hazards:         
None
Water Quality:          
Clean
Best Tide:       
Tide Independent
Beautiful waves, clean and flat in between. Also the best spot in Cape Town for freestyle, without any doubt, with super smooth water at low tide.
Beach Type:   
Long, sandy beach.
Best Wind Months:  
January, February, March, April, October, November, December
Wind Type:    
Consistent. (moderate to strong)
Best Wind Direction:
ESE, SE, SSE, S
Main Wind Direction:          
ESE, SE, SSE, S, SSW, SW
In summer, the wind is mostly S to SE. This is the perfect wind (also known as the "Cape Doctor")
Want to buy Surf gear? Click here.
Need to rent surf gear? Click here.