Robby Naish: A living legend
When you think of windsurfing, kitesurfing or watersports in general, one name springs to mind: 
Robby Naish.
Robby has been a part of the watersports world since the very beginning and has seen the evolution of windsurfing as well as kitesurfing. He runs one of the most successful brands and has tons of World Titles under his belt. When he has something to say about the Red Bull King of the Air and what it means for kitesurfing, we take notice.
So here's an interview with Robby when Red Bull flew him to Cape Town for last year's King of the Air.
ROBBY: ON THE RETURN OF THE RED BULL KING OF THE AIR 
To a certain degree the original King of the Air helped launch the sport in general, bringing money, awareness and prestige to the table. I've been in discussions with Red Bull for over a year about bringing back some kind of kiting event, but it had to be unique.
The old King of the Air was let go because it had become a little same old-same old and Red Bull like to promote the unexpected.
The discussion had been fairly constant about whether to do a wave event or this, or that and we even discussed it before the Len10 Mega Loop Challenge last year.
More people were invited into the discussion early on and I'm glad they listened to the suggested adaptations.
The mega loop is very neat for a few people who can get excited about watching them all day, but I was pushing for them to bring back something that wasn't so limited in terms of what the guys were doing.
I was still pushing for some sort of visual references in the background that could be added to the event to bring in more general public appeal and instant media response. Media likes things they can package in one picture with a headline, or can make a 20 second news reel clip from.
This came as close as any event we've ever seen in kiteboarding. As great as the PKRA riders are, the scope of what they are doing has got narrower and narrower, appealing to a smaller and smaller target audience. I think we needed a return of big air freestyle, not just kite loops – a giant board-off is still exciting and the kind of thing that can be packaged beyond the narrow scope of today's competitive kiting scene.
I think the Red Bull King of the Air hit the nail right on the head: the venue, the conditions on the day with the level of riding and the way the guys grasped the concept. A few guys were just sticking to their guns and doing loops, but they weren't the ones awing the crowd.
ROBBY: ON THE FORMAT 
The flag out system was killer, exciting and it really worked well. For me, it was the best kiting event ever, because of everything. The level, conditions, the location, the format, the riders and picking just the right guys for the job and packaging it all in one day.
There was no anti-climax, it was built and it built, it got windier and windier; it just couldn't have been better. There are only a few places in the world this event could be held, and Big Bay was a perfect spot.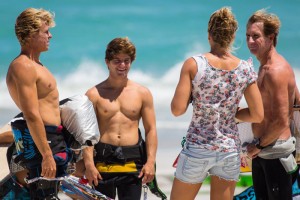 I had a group of kids come from a Laureus Sport for Good foundation in South Africa – a group of skaters and surfers from two local Cape Town projects. They were blown away. I've been to a lot of events in my life, and that was up there on the same level. Maybe only the indoor windsurfing events have been a better 'show', but you'd have to really nitpick to find things that should have been better about this event.
ROBBY: ON RED BULL 
They are smart. They grab the organisation that already exists and use it alongside their back-end organisation, especially now with the Red Bull Media House. For the original Red Bull King of the Air they used local riders Mike Waltz and Joe Cool, they didn't just truck in a bunch of Austrians; they get the right people.Having Sergio Cantagalli here organising this event, Susi Mai as a spokesperson and bringing me in for insight just balances things out.
Red Bull are all about broadening horizons. They take a concept and say, 'Let's put some fertilizer on this and see what we can make happen.' In the beginning they were exclusively about promoting and being involved with off-the-radar sports.
No advertising, no football, nothing like that which helped establish the company and in turn they helped establish a lot of sports and athletes that otherwise wouldn't have had the money to follow their dreams and push things.
Honestly kiteboarding needed that as it has mojo on the competitive side and struggled to remain relevant to most riders. Most kiteboarders aren't 17, and this event can be built upon and is easily followed.
The names of the riders will become more recognisable, which they're honestly not right now and the guy that's out there kiting on the weekend will become more interested, so it's fricking cool that they've brought it back. 
ROBBY: ON CAPE TOWN 
I've never been to South Africa. In the early days of windsurfing competition the GTI cup came here and was a huge success but South Africa was very political and I just didn't want to get involved in the whole apartheid thing. Through my whole career I've tried to stay politically correct and in the 80s it was pretty gnarly.
It's not like I did it as a statement, it wasn't a big thing, I just didn't go. I travelled so much during the competition days that all I really did was the world cup and then an occasional PR trip if my sponsor really wanted me to, but the rest of the time I didn't go travel for fun.
I went to events. When I stopped competing and started travelling for fun, our winter at home on the North Shore of Maui and Oahu is a really key time for getting the conditions that we like to ride. I wanted to come to South Africa, but to travel that far in that season, wear a wetsuit and probably miss something at home? So I never did.
I've missed two Jaws days already this week at home, not really big ones, but I'm finally at a point in my life and my career that I don't mind missing Jaws days.
It's not gonna rip my spine out the way it used to. So I decided I would come to South Africa, kite frontside and not lose sleep over it. I'm not chasing my ego so much anymore and I'm not worried about who is getting their picture taken when I'm not.
I've heard about this place forever and I've only been here six days, but I've had so much fun. I really have. 
With the 2014 Red Bull King of the Air coming up soon, you can expect to see Robby Naish, as well as some insane big air action back in Cape Town.
For the full interview click here.