Kiteboarding Hot Spots
Where the Indian and Atlantic oceans meet you'll find the perfect kiteboarding playground.
Cape Town and its stretch of coastline boast sought-after wind and weather conditions along with flat waters and waves, which together provides world-class kiteboarding hot spots for both novice and seasoned pro kiteboarders.
"Of course the main pull for me are the epic , full on wind. If you want to go huge it's the only place to be. A lovely place for natural highs" – Ruben Lenten, Slingshot Pro Rider.
West Coast Kite Spots
Sunset Beach
The picturesque kite spot offers four small parking areas with easy access to the pebble stone beach.
It's one of the first kite beaches on the west coast stretch and a great place to start a downwind kite session from.
It can get crowded on weekends but less so during the week.
If you want to get as much riding time as possible, Sunset beach is your first port of call.
Dolphin Beach
With loads of space to launch from this kite spot, located as you enter Bloubergstrand from town's side, is a great place to kite downwind from.
Take note – on windy days with lots of kitesurfers and kiteboarders out, the parking area fills up quite fast.
Kite Beach
As the name implies this white sandy beach is of the most popular places to kite.
There's plenty of parking, lots of space to launch your kite from and many kite shops and restaurants nearby.
Do however keep an eye out for beginner kiteboarders, the mostly submerged shipwreck and rocks at the far end of this stretch.
Only for the brave at heart, this a quality hardcore experience. Be careful though, you are less likely of a rescue.
Take precautions as the remains of the sunken Seli 1 is at this beach. Ask locals where it's safe to kite and what area to avoid.
Big Bay
Despite its name, this very popular beach is in fact not huge and can get crowded at times.
You'll find loads of parking, restaurants and kite shops offering kite lessons right on the beach.
Kiteboarders and kitesurfers have a designated area to the right of the rocks and should steer clear of the no kite zone reserved for swimmers and surfers within the bay itself.
"I've had some of my best surfs at Big Bay, in the evenings, with smooth nine metre winds and most ridiculous kickers that curve in through the bay allowing you to pick the angle you want to hit them at." – Aaron Hadlow, Five Time World Champion and Hadlow Pro by Flexifoil Gear Development.
Haakgat and Eerste, Tweede & Derde Steen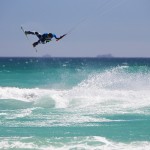 If you're looking for a great place to end a big downwinder, you'll find it here.
The four open beaches with good waves for kitesurfing, are located just beyond Big Bay and offer conditions suited for more advanced kiteboarders and kitesurfers.
There are some visible rocks to keep an eye out for and with a lack of support, it's not an ideal kite spot for beginners.
Word gets around quickly when its "On" here. These places have seen some of the world best and most wave hungry kiters.
Although its one of the best places to kite, take caution if youre not a completly confident kiter yet.
Because of the rips, currents and big waves, it definitely grows your fear factor.
"Cape Lesson: Know your limits and there's always tomorrow" – Peter Peterson
Langebaan Lagoon
A little over an hour's drive up the west coast from Cape Town, you'll find Langebaan's two main kite areas, Main Beach and Shark Bay.
With no waves, the shallow lagoon is a great place for beginners to learn which makes it a popular destination for kite schools. Plus it's also a great practice ground for advanced kiteboarders to improve on their flat surface tricks.
Do be advised not to leave personal belongings on the beach as the tide has a habit of sneaking up on it.
This is the perfect place for learning and building confidence on your board.
Its the perfect break from the ferocious conditions in Cape Town.
Muizenberg
Muizenberg, Surfers village – between Mountain and Ocean, one of Cape Towns most southernly suburbs – is just a 20 min drive from the City center.
The water in Muizenberg is warm, with safe beach break waves.
For those who like Kitesurfing, the wind statistics are the most consistent across the whole of  South Africa. Muizenberg offers a large stretch of uncrowded beach of several kilometers swept by consistent, onshore wind.
When the wind does not blow, the beach break waves and shallow water of Muizenberg make it an ideal spot for all levels of surfers, Stand Up Paddle Surfers and bodyboarders with small to medium size waves breaking close to shore and in deeper water.
Muizenberg has a simlar kiting experience to one that you would have in Europe.
Nightlife
Muizenberg offers the best surfing vibes in Cape Town, it is a Surfer/Kitesurfer little town. Kalk Bay, about 10 min walk away offers the wildest parties with Restaurants and Bars like Polana and Brass Bell, both cool places to meet local and international watersport enthusiasts. Authentic people with authentic parties!
Kite- and Watersportspot:  Muizenberg
Muizenberg and its immediate surroundings offer the widest possibility of diverstity of activities in Cape Town. Situated in the South Peninsula, Muizenberg is unsurpassed by its authenticity, nature, people and diversity of things to do. In contrast to the all-concrete and ultra-commercial West Coast and Atlantic Seaboard coastline suburbs of Cape Town, the peninsula still boasts areas of untouched fauna and flora.
Kitesurfing. Muizenberg is the windiest kitesurfing spot in Cape Town. Wind strength is much more consistent throughout the day than in any other place. A typical Kitesurfing summers day in Muizenberg has about 15-18 knots wind in the morning, picking up progressively to 25-30 knots in the afternoon. Due to a unique thermal effect and to its proximity to the Cape of Good Hope, a moderate on-shore wind blows into Muizenberg on afternoons even forecasted with no wind. A real paradise for Kitesurfers!
Kite Bugguy'ing. The constant on-shore wind sweeping the long un-crowded stretch of beach between Muizenberg and Strandfontein allows cruising for kilometres on light winds on a kite-buggy. In strong wind conditions, the spot allows for racing on the hard sand at low tide.
Want to buy kiteboarding equipment? Click here.
Want to rent kiteboarding equipment? Click here.